Rooted In The Word, Growing In Faith, Reaching Out To Our Uprooted World.



New Life Lutheran Church of Lake Zurich, Illinois, is a member of the Wisconsin Evangelical Lutheran Synod. We are rooted in the Word of God, growing in the Christian Faith, and reaching out to our uprooted world.

We worship every Sunday at 9:30am at 910 S. Old Rand Road, Lake Zurich, Illinois. Worship services are followed by Adult Bible Class and Sunday School at 10:45am. [Visit Us -->]

New Life is partnering with the Wisconsin Lutheran Child & Family Services to host a monthly series of FREE parenting seminars. November's topic: You have a Friend in Me on Wednesday, November 15th at 7:00pm




New Life will host a Thanksgiving Eve service, followed Stone Soup supper, on Wednesday, November 22. The service starts at 7:00pm; the supper at 8:00pm. There is no cost or obligation required to attend.

On Thanksgiving Day, November 23, New Life will host a group of fifteen Naval Recruits from Great Lakes Naval Station. We invite anyone in the community who would like to attend, or help with preparations, to share in the activities. [More --->]




We operate the Tree of Life Lutheran Preschool to teach young children and their families about God's love and His plan of salvation. We guide them in applying that faith to life and in sharing it with others, and provide them with spiritual and educational support.




Tree of Life offers a morning program during the school year for four-year-old children on Mondays, Wednesdays and Fridays from 9:00 - 11:30 AM. Tree of Life also offers a Tuesday, Thursday program during the school year for three-year-old children from 9:00 - 11:30 AM. Registrations are now being accepted for the 2017-2018 school year. Tree of Life Lutheran Preschool is accredited through Wisconsin Evangelical Lutheran Synod School Accreditation (WELSSA).

Tree of Life has been serving the Lake Zurich community for over ten years. [More -->]

Our Christian Education program offers Sunday School, Teen & Adult Bible Classes, and Adult Instruction Class at 10:45am each Sunday. Men's Bible Study is offered each Friday at 12:00 noon. [More -->]






910 S. Old Rand Road
Lake Zurich, IL 60047
---
---
Copyright © 1999-2015 New Life Evangelical Lutheran Church.
Upcoming Events
November 5th - District Reformation Rally in Milwaukee
November 15th - WLCFS Parenting Seminar (7:00 - 8:00pm)
November 22nd - Thanksgiving Eve Serice/Stone Soup Supper (7:00pm)
November 23rd - Thanksgiving With The Sailors (12:00 - 4:00pm)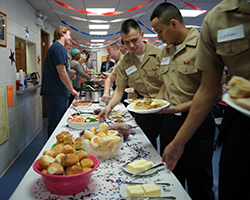 Photos from our 2016 Thanksgiving with the Sailors event may be seen on our Facebook page.