New Life Lutheran Church of Lake Zurich, Illinois, is a member of the Wisconsin Evangelical Lutheran Synod. We are rooted in the Word of God, growing in the Christian Faith, and reaching out to our uprooted world.
We worship every Sunday at 9:30am at 910 S. Old Rand Road, Lake Zurich, Illinois. Worship services are followed by Adult Bible Class and Sunday School at 10:45am. [Visit Us -->]
Please join us for our Mid-Week Lenten Services on Wednesday evenings during Lent, starting Ash Wednesday, March 1st. The six mid-week services will be held on Wednesdays at 7:00 PM. Prior to the service a meal will be served starting at 6:15 PM. Please click here for schedules.
We operate the Tree of Life Lutheran Preschool to teach young children and their families about God's love and His plan of salvation. We guide them in applying that faith to life and in sharing it with others, and provide them with spiritual and educational support.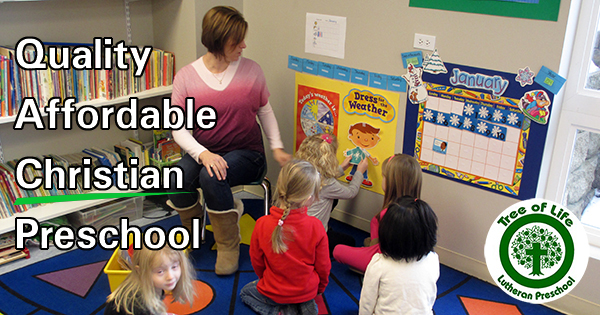 Tree of Life offers a morning program during the school year for four-year-old children on Mondays, Wednesdays and Fridays from 9:00 - 11:30 AM. Tree of Life also offers a Tuesday, Thursday program during the school year for three-year-old children from 9:00 - 11:30 AM.
Tree of Life has been serving the Lake Zurich community for over ten years. [More -->]
Our Christian Education program offers Sunday School, Teen & Adult Bible Classes, and Adult Instruction Class at 10:45am each Sunday. Men's Bible Study is offered each Friday at 12:00 noon. [More -->]
Green Team is a kid's program offered by New Life to kids Kindergarten through Eighth Grade and is open to both boys and girls. Green Team normally meets the second and fourth Thursday of each month during the school year from 6:30pm - 8:00pm. There is no cost or obligation to join Green Team. [More -->]