Thanksgiving Eve Service
We invite our friends and neighbors to join us as we give thanks to God for His grace in worship on Wednesday, November 23rd at 6:30 PM. Following the service, a stone soup supper will be served.
Thanksgiving Day Adopt-a-Sailor
New Life will host 28 recruits from the U.S. Navy Great Lakes Training Center on Thanksgiving Day, November 24th, as part of their Adopt-a-Sailor program. A meal will be served at noon, followed by various games and activities. We invite everyone in the community to join in sharing Thanksgiving with those who are preparing to serve our country in the Navy.
There is no cost to attend, but please RSVP (either through the form on this website, via eMail or call (847) 438-5018 by Monday, November 21st. (If you wish to help with the set-up and serving of the meal, please indicate as such in your RSVP, and plan to be at New Life by 10:00am. A short organizational meeting will be held on Wednesday, November 16th, at 8:15pm after the seminar.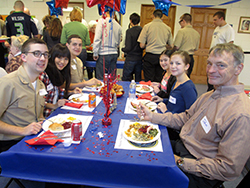 Advent Observance at New Life
In 1934, sixteen years after he had introduced to King's College, Cambridge, the Festival of Nine Lessons and Carols for Christmas Eve, the Dean, Eric Milner-White, composed a further service - a Procession with Carols upon Advent Sunday. His desire for more imaginative forms of worship appears in the preface he wrote to that service: In the old English liturgies, the Advent Offices made a preparation for the coming of our Lord to this earth far more vivid and eager than those of our present prayer book. So an Advent carol service, if without precedent, is not without suitability, if it helps to express "the desire of all nations and ages."
The purpose of the service was not to celebrate Christmas, but to expect it.
Please join us for uur Advent Festival of Nine Lessons and Carols on December 4th, 2022 at 9:30am. It will be followed by fellowship and family activities after the service.
Christmas Eve and Christmas Day at New Life
The children of New Life will present a Christmas Eve Candlelight service at 6:30pm on December 24th, 2022. Our Christmas Day service will be held at 10:30am on December 25th, 2022. All are invited to join us at these services to celebrate the birth of our Savior.